Discover more from The Accidental VP by Susan Smythe-Bishop
A collection of stories and illustrations with a focus on the power of compassionate leadership from someone who worked behind-the-scenes in the entertainment industry for over 30 years.
The Fabulous "Baker Boys" of Milford, Ontario
How a new-ish bakery is energizing a small town in Prince Edward County
It was early on an overcast Saturday morning back in July 2021 when I finally decided to make the short 13-minute trek to the bucolic hamlet of Milford, Ontario. I wanted to see what all of the fuss was about over PECish, a charming new bakery that Stephen and MaTTi Matyasfalvi (AKA the fabulous "baker boys") had recently launched.
As I crossed the Mill Pond bridge and leaned into the bend, it was obvious I had found the place. Cars lined the curbs of this tiny juncture on HWY 10, and standing out front of the quaint little white building was a lineup at least 20 people deep, all reasonably distanced according to the COVID protocol of that time. Once parked, I nodded and smiled to the line as I respectfully took my place at the back, right next to the makeshift PECish sign that was fixed to a sandwich board.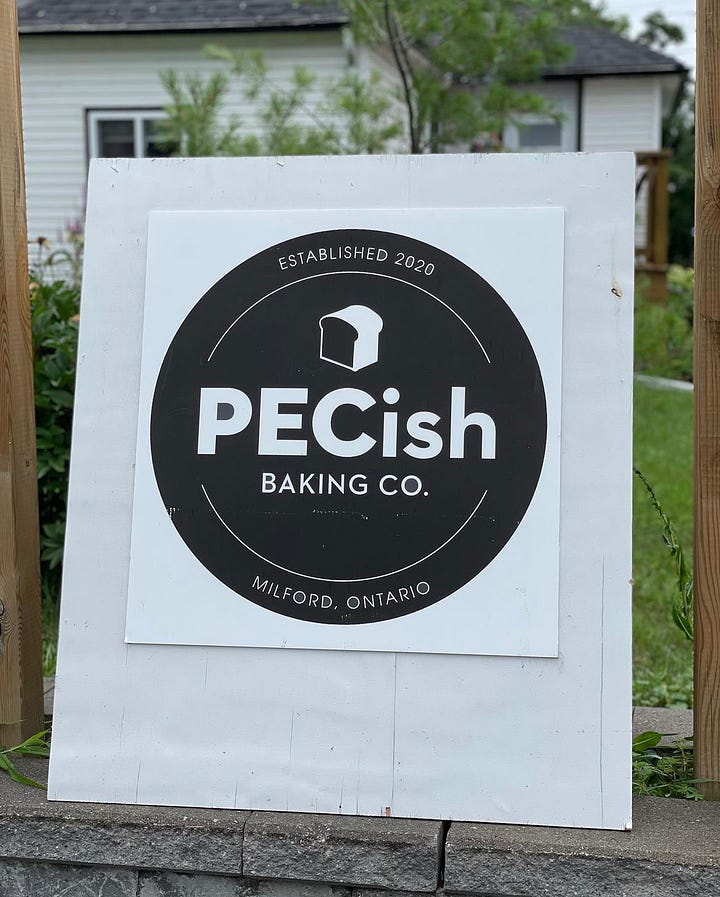 It was a fairly long wait as they were only allowing two customers into the little takeout area at a time, but no one seemed to mind. In fact, the atmosphere was quite cheerful with an abundance of chatter and most everyone wore a smile. It was still a time when socializing in real life seemed like a luxury, so standing in line with other strangers felt somewhat liberating - the wait was actually fun.
YOU ALWAYS REMEMBER YOUR FIRST TIME…
I clearly remember how the heavenly bakery smells managed to permeate my N95 mask as soon as I stepped into the small takeout area that day.  A chalkboard above the takeout window listed the many breads and pastries they had on offer, so I randomly ordered some croissants and some "Fancy Cruffins" along with a couple of loaves of bread, and upon leaving the building I assured those still waiting in line that I left a few morsels for them 😊
The second I was in my car with my stash – I pulled out a "Fancy Cruffin" and took a bite that was SO good – the second bite literally morphed into a feeding frenzy and before I knew it, it was GONE. I looked down at my clothes and I was literally covered in crumby flakes and when I looked in the rear-view mirror to clear off the cinnamon sugar that was clinging to the lower part of my face - for a brief moment, I imagined Cookie Monster staring back at me in disbelief. But was it ever good, and it was totally worth having to detail the car when I got home!
METEORIC RISE:
It has been remarkable to witness the meteoric rise of this business. The baked goods truly are exceptional, and the croissants in particular (whether plain, chocolate, almond or in danish form etc) are perfection, each with SUPER delicate and crispy exteriors and PERFECT layered buttery goodness inside. I think part of the secret here is the butter they use - the regionally produced Sterling's Churn 84 is on par with European butters and it makes an exceptional pastry.
Since that first visit – they (and my waistline) have expanded and are using the entire building now, and not only are they a bakery, but they are also a small grocer carrying a multitude of regionally-produced items. They even supply bread to other businesses and are known to initiate interesting, inventive and delicious partnerships with other businesses in the community like this and this. And every time I go – I sense a remarkably positive vibe both in and around the building, which is part of the attraction for me.
ABOUT MaTTi and Stephen:
A lovely couple who were introduced to each other through mutual friends back in 2010, MaTTi and Stephen hit it off immediately (their first epic date lasted over 8 hours!). It was MaTTi who introduced Stephen to Prince Edward County, and before they could blink an eye – they bought a place together and were married at the Waupoos Winery 10 years ago. They now live here full time.
Stephen, who handles the operations side of the business, and I sat down for a chat after closing time on a recent visit to the bakery, and one of the astounding things I learned is that while they have this exciting, bustling and growing baking business that requires long work hours here in PEC, and they still both work full time with their original jobs remotely 😳
Stephen is a self-employed business consultant who in a past life, worked on Wall Street and Bay Street and he even worked as an interior designer at one point. MaTTI is currently a partner in the Toronto-based full service boutique modelling agency and management agency with a VERY impressive talent roster called Spot 6 Management. Prior to that - he held positions in IT and in the fashion industry.
PASSION, DETERMINATION AND PRACTICE, PRACTICE, PRACTICE…
While it seemed like everyone in the world was learning to bake bread during the first year of COVID lockdowns, so was MaTTi, only he doubled-down and was clearly on a mission. Stephen told me that MaTTi has always had a passion for baking - he loved baking for friends and neighbours and his/their retirement dream was to open a bakery. He saw this downtime as an opportunity to perfect and to really hone his skills, which he did.  He is completely self-taught, which is so inspirational and remarkable to me because his pastries are some of the best that I've ever had.
As COVID tightened its grip on the world and both of their incomes literally ceased to exist, the two decided that maybe now was the time to think about getting that bakery going. They were determined to do it in Milford, a tiny hamlet that was screaming for a business like theirs, and so the Universe basically said, "your wish is my command" and presented them with the ideal property. With a lot of hard work and perseverance – the business officially launched in April 2021 and has grown substantially ever since.
And in the two short years they have been doing this – not only have they earned the love and respect of the community, but also two awards of recognition: Best Cookie by Canada Takeout, and the Best Business of the Year award in 2022 from the PEC Chamber of Commerce.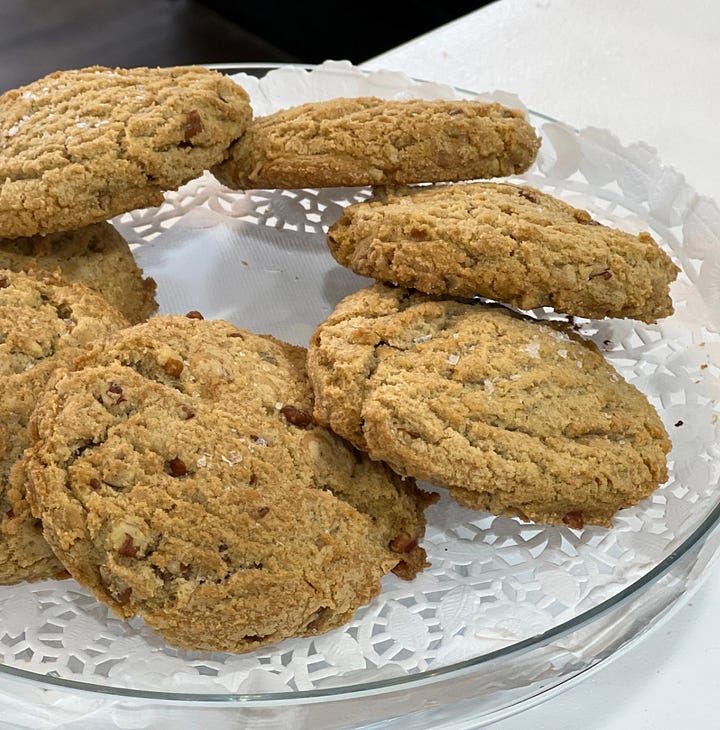 ON LEADERSHIP:
I'm admittedly obsessed with the subject of leadership – compassionate and positive leadership to be precise. I just think the world needs a lot more of it and a lot more kindness and I'm really attracted to businesses who appear to be driven by it – like PECish.
Fashion, Talent Management and Finance, all industries that Stephen and MaTTi have had a great deal of experience working in, can be riddled with egotistic and maniacal leaders who are concerned primarily with their own trajectory. And often, their underlings pay that behaviour forward as they rise through the ranks - because it's what they've been taught.
So, when I learned of their backgrounds, I was curious to ask about the genesis of their own leadership style. They clearly are very giving and generous with their time and resources, they are outwardly grateful for this community and genuinely supportive of local causes – so how did they avoid the egotistic pitfalls?
Stephen acknowledged that in the past, both he and MaTTi experienced some truly TERRIBLE, terrible behaviour from others in their respective industries. Neither have studied leadership in any formal or or intentional way, however - along the way, they just took a lot of notes on how never to treat people. They consciously treat others in the same way that they hope and expect to be treated, with heaps of compassion and respect. And they deeply love this community and the community loves them back and they are most grateful for it. And they continue to take notes on what works and what doesn't and learn from it.
THE MILFORD MECCA:
When Tim and I first bought our place out here over 14 years ago, we were drawn to Milford by way of The Milford Bistro, a delightful restaurant that sadly closed a few years later. We soon discovered other interesting businesses in the area including Honey Pie Hives and Herbals, Lighthall Vineyards, Jackson's Falls (now run by community stalwarts Nat and Drew Wallenberg) and more recently –Atelier du Presbytere. I also believe that Vicki's Veggies and soon to open Black River Market are also considered part of the Milford catchment area too - so the area is bursting with interesting businesses.
But PECish landing when and where it did really seems to have revitalized the tiny "downtown core" or the heart of Milford. On weekends, it has become an energetic hive of activity.
In fact, on a recent sunny Saturday morning – right across the road from the bakery, I spotted a table lined with adorable coloured birdhouses outside the home of Leon and Vernice McConnel. Leon proudly built them from donated materials, and told me that his primary motivation for doing this was so that he could simply meet and chat with people, that fills him with great joy. He also mentioned that the presence of PECish has dramatically increased his interactions and sales, all of which he donates to charity ❤️. He loves having the Stephen and MaTTi as neighbours.
PECish is open weekends (Friday, Saturday and now Sunday) so if you live in the region or are visiting – it's well worth the drive. And while I wholeheartedly recommend everything that they serve, there is one piece of advice that I can offer:
Avoid eating one of their croissants while in the car!
I don't think you can win that delicious battle. I usually take one of the croissants that I've purchased, take a short walk to enjoy it while I overlook the pond 😁
Cheers to you, Stephen and MaTTi and thank you for all of the joy that you bring to PEC! And while I'm at it - wishing you and all of the LGBTQ community a joyous Pride month and beyond!!
Follow PECish on through their Instagram account to keep updated on their hours, events, activities and exciting partnerships they are involved with.
I am a very proud supporter of THRIVE Prince Edward County - a community-led development of a collaborative vision for the future of Prince Edward County. For more information on this initiative, please visit www.thrivepec.ca